The replacement cost of a furnace depends on the size, type of furnace, geographic location and if any duct work or if the system requires additional modifications. A good practice is to get three estimates for replacing a furnace and compare costs, contractors and brands of furnaces. There are five basic types of furnace: gas furnace, gas boiler, oil furnace, electric furnace and heat pump. The furnace alone may cost less than $1,000 in 2014, but the installation can double or triple the replacement cost. The gas furnace is typically the the cheapest to run.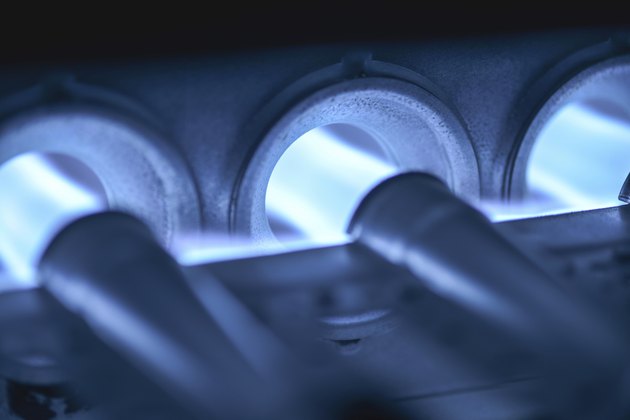 credit:
pricelessphoto/iStock/Getty Images
Gas furnaces come in many different shapes and sizes. A furnace for a 1,000 square-foot home will not cost as much as a furnace for a 3,000 square-foot two-story home. There are also different levels of efficiency and multi-stage furnaces. Gas furnaces that are single stage and 80 percent efficient are $2,000 and up, installed. Ninety percent efficient single-stage furnaces average $2,370 installed in 2014. Multi-stage or modulating furnaces with variable speed blowers that are 95 percent efficient or higher can cost $5,000 to $7,500 and higher. A contractor can usually install a gas furnace in one day.
In 2014, gas boiler replacement costs range from $2,500 to $5,000 for a mid-efficiency boiler and $6,000 to $9,000 for a high-efficiency boiler. The installation can take several days and can require additional modifications and repairs if the existing boiler is old. Additional costs to consider for a gas boiler replacement is a fire inspection by local officials, adding a chimney liner and removing an old fuel-oil tank.
The replacement cost for an oil furnace in 2014 averages $5,780 installed. Some installations require additional modifications and can run to about $7,800. Contractors consider the oil furnace when a gas furnace is not possible. Oil furnaces cannot achieve the same high efficiency as gas furnaces, can last between 15 to 20 years and require regular maintenance.
The price to replace an electric furnace in 2014 is $1,590 to $2,457 installed. The electric furnace is the cheapest to install, but the most expensive to operate. If gas or oil furnaces are not an option, an electric furnace would be your choice. Electric furnaces can last from 25 to 30 years and have an 80 to 90 percent efficiency rate.
Heat pumps operate as a two-in-one furnace and air conditioner. They are more expensive to install than a furnace, but are one of the most efficient ways to heat or cool your home. Prices range from $1,500 to $7,500. A heat pump system is not recommended for areas where there is a substantial amount of below-freezing temperatures because a backup heating system will be necessary when the temperature falls below about 35 degrees Fahrenheit.